The Nobel Prize in Physics 2021
The Royal Swedish Academy of Sciences has decided to award the Nobel Prize in Physics 2021 "for groundbreaking contributions to our understanding of complex physical systems" with one half jointly to Syukuro Manabe and Klaus Hasselmann, "for the physical modelling of Earth's climate, quantifying variability and reliably predicting global warming" and the other half to Giorgio Parisi, "for the discovery of the interplay of disorder and fluctuations in physical systems from atomic to planetary scales".
The Human Fingerprint in the Climate System — About the pioneer of climate research Klaus Hasselmann
Roland Wengenmayr
Today, human-induced climate change is common knowledge. But, how do we know that we are the ones causing it? And that we are heating up the Earth more and more with our greenhouse gas emissions, especially carbon dioxide? We largely owe this knowledge to the pioneering work of Klaus Hasselmann and Syukuro Manabe. Both were honored with the Nobel Prize in Physics in 2021 "for the physical modelling of Earth's climate, quantifying variability and reliably predicting global warming," one half of which they shared [Nobelpreis2021]. With their pioneering work, for which they had to develop and introduce completely new concepts, these two scientists played a leading role in founding modern climate research.
A crucial requirement for today's understanding of global warming is the knowledge of how the atmosphere reacts to a rising carbon dioxide concentration. "Suki" Manabe was able to show with early computer simulations how the radiation budget and convection, the circulation of air masses in the atmosphere, interact and cause the thermometer to rise slowly. But how do you trace the human "fingerprint" in the chaotic, chance-dominated climate system? Klaus Hasselmann succeeded with a criminalistic touch. The metaphor of criminology fits perfectly here, because a fingerprint has a characteristic, unmistakable pattern. In that same way, a certain pattern in the behavior of the climate system ultimately leads to us humans — as perpetrators, as we must admit.
Bjorn Stevens, director at the Max Planck Institute for Meteorology, as whose founding director Klaus Hasselmann was appointed in 1975, compares Hasselmann's crucial work to the discovery of gravitational waves. The extremely weak signal of two black holes tumbling into each other in the form of minimal oscillations in space-time could only be found because it had been possible to calculate it theoretically beforehand. This allowed astrophysics to search specifically for such tiny signals in the gigantic noise of the cosmos. This was achieved for the first time in 2016, a hundred years after Albert Einstein had predicted gravitational waves.
In a very similar way, Klaus Hasselmann's concept was in principle based on looking for a certain, pre-estimated pattern in the noise of the climate system. Here, too, there is a connection to Einstein, via the so-called Brownian motion of molecules. In 1905, Einstein succeeded in physically describing the trembling motion of teeming molecules in a warm liquid by capturing their collective behavior with the tools of statistics. This was quite revolutionary in physics at the time.
It was in this spirit that Klaus Hasselmann introduced the "stochastic" methodology to climate research. Stochastics is a field of mathematics that describes systems using the tools of statistics in which chance plays a central role. Sounds pretty abstract, so let's get specific. In the climate system, processes interact whose time scales range from seconds to extremely slow, that is, centuries and even longer. At the fast end rages the weather that is characterized by a certain degree of chaos. It is no coincidence that a meteorologist, the American Edward Lorenz, developed the foundations of chaos theory in the 1960s. This element of chaos in weather makes weather forecasts difficult, especially when they look beyond a week into the future. It will never be possible to predict exactly what the weather will be like in Hamburg on 1st October three years from now.
However, climate models can now with reasonable confidence predict what an average autumn in Hamburg will be like in 30 years' time. And this is due to the enormously lethargic actor at the other end of the time scale, the world's oceans. Water has a large so-called heat capacity, which is why it takes so long to finally bring a liter of water to the boil for tea. Because all of the oceans together form a huge body of water distributed around the Earth, it reacts very slowly to changes in the atmosphere. If the atmosphere tends to get warmer, the oceans buffer this as "climate memory" for a long time, at least until the water has warmed up accordingly.
In 1976, Klaus Hasselmann cracked the problem of the many time scales in a first pioneering act by considering the weather as noise and tackling it with stochastic means — in the spirit of Einstein's approach to get a mathematical grip on Brownian motion. This allowed him to address a previously unanswered question: What causes natural climate variability? At the time, the widely shared view was that external drivers were the causes of climate variability, including changes in solar activity or large volcanic eruptions. Hasselmann could now show that the noise of the weather alone is enough to cause long-term climate fluctuations. Accordingly, the climate is permanently changing on its own, without any "kick" from the outside.
We can imagine this by picturing a drunken man who wants to go home from the pub with his dog. The man is in a state where he has lost his orientation. The young, untrained dog takes advantage of this passivity and runs erratically back and forth in all directions on the leash, because the world smells equally interesting everywhere. Consequently, he drags his staggering master sometimes here, sometimes there, with the result that the odd couple obviously can't get away from the spot.
The dog embodies the noise in the weather, thus the chaos part, and the master the climate: The man reacts very sluggishly to the movements of the wild dog, but under its impulses he then stumbles a little here, a little there. So, the movement of the master is caused only by the random running around of the dog. It is exactly such a connection that Hasselmann could show in his work of 1976: The "jolts" of the noise in the weather alone cause the climate to change — so this happens only from within this system, without any external influence.
As a next step, let us now imagine that we, as observers, expect the following: In his alcohol-fogged brain, it does dawn upon the man that he actually wants to go home. We know approximately where he lives. So, the man will try to move slowly in the direction of home. Even though he has great difficulty, he manages to direct the wild dog in the desired direction in tiny steps. However, this shift of the involuntary pair dance is so subtle that this signal only becomes recognizable if you know exactly where to look for it in the turmoil. But how do you find it?
Such metaphors always have their limits when abstract mathematical work is involved. But this is roughly how Hasselmann's second feat can be illustrated. Here, the road home symbolizes the long-term tendency of the climate to become warmer overall, for example, and the weak will of the dog owner symbolizes the influence of humans on the climate system. Hasselmann's stochastic method is equivalent to an analysis of the couple's wandering in a phase immediately after leaving the pub, in which no tendency in any particular direction actually seems to be discernible yet in the random movements. But Hasselmann can already detect such a tiny tendency with his method, because he knows where it is pointing and where he has to look for it in the enormous noise.
This is how one can imagine the detection of the human fingerprint in the climate system. Hasselmann's work, which laid out the basic concept for this, was published as early as 1979, but it took until the mid-1990s for a team led by Hasselmann to identify this fingerprint with certainty. This concept evolved into what is now an important scientific field of climate research, dedicated to the "detection and attribution" of climate change.
Jochem Marotzke, Director at the Max Planck Institute for Meteorology, however, points out that there was a competitor for Hasselmann's first work, with both scientists apparently unaware of their respective work. The American Cecil "Chuck" Leith had simultaneously and independently developed what Marotzke considered an equivalent concept to Hasselmann's stochastic climate model [Marotzke2021]. "So, if you focus on the stochastic climate models, you would definitely have to discuss Chuck Leith's contribution as well," Marotzke feels, "That's where I might differ from others in my assessment of what's worthy of a Nobel Prize." Marotzke's intention is not to diminish Hasselmann's achievement, but simply to point out in a fair manner that two researchers have come up with comparable ideas without knowing about each other. This happens quite often when something new is in the air.
"But his work on the 'fingerprint' makes Hasselmann a solitaire!", Marotzke emphasizes what he sees as the Hamburg scientist's outstanding achievement: "If you look at this publication from 1979 — this comes absolutely out of nowhere!" That this achievement alone is worthy of a Nobel Prize is also shown by the history of the creation of the "Intergovernmental Panel on Climate Change" (IPCC).
"Much of the IPCC is really constructed around the framework that Hasselmann has set," Bjorn Stevens points out, " It's in the increasingly strong adjectives used by the IPCC from one report to the next to describe the likelihood of human influence on the climate." The IPCC's first assessment report in 1990 still assumed that most of the observed temperature increase could be due to natural variations, while not ruling out human influence. The second report, in 1995, remained cautious, arguing that the scientific ability to quantify human influence on climate was still limited — yet there was every indication that there was a discernible human influence on global climate. The 2001 report then already made the more concrete statement that mankind was "likely" — with a probability of more than 66% —the cause of global warming since the middle of the 20th century. By the 4th Assessment Report of 2007, the finding was already "very likely," with over 90% probability, and by the 5th Report of 2013, "extremely likely," with 95 to 100% probability. "So, it's these adjectives that are getting more and more powerful," Stevens says: "All of these adjectives are coded probabilities that emerge from Hasselmann's work!" So, the "fingerprint" of humans in the climate system is emerging more and more clearly in these reports. The 2021 Sixth Assessment Report says: "It is unequivocal that human influence has warmed the atmosphere, ocean, and land." So, the Intergovernmental Panel on Climate Change is one hundred percent certain that humans are causing global warming.
This outstanding scientific achievement has also long been recognized by Hartmut Graßl. The long-time scientific companion and former director at the Max Planck Institute for Meteorology stated as early as 1995 at a press conference in the presence of the then Federal Minister of Research: "The signal has been discovered". To the press present, he said, "If there is a binding agreement on this under international law, then I am sure that Klaus Hasselmann is a candidate for the Nobel Prize in Physics."
This prediction came true in 2021. It is important to note that Klaus Hasselmann and Syukuro Manabe received the Nobel Prize in Physics for their conceptual work, emphasizes Stevens. It is a misconception, he says, that this was in recognition of the development of climate models. "Modeling is a collective enterprise," he says. It's clear that many more contributors should have been considered in this case. The Nobel Prize in Physics could not possibly do justice to that, since it is limited to a maximum of three heads. But in a way, the Nobel Committee has already acknowledged the collective effort of model development by awarding the 2007 Nobel Peace Prize to the IPCC. Indirectly, Manabe and Hasselmann have also contributed to this Nobel Prize with their life's work.
Klaus Hasselmann and the beginning of climate research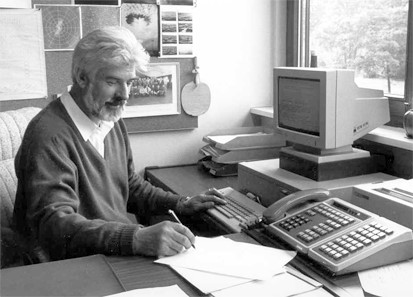 Born on 25th October 1931, Klaus Hasselmann is one from the founding generation of modern climate research. It was not foreseeable during and after his studies of physics and mathematics at the Universität Hamburg that he would shape this field as one of the pioneers. Since the then fashionable fields of physics, such as quantum field theory, with their abstract concepts seemed too difficult to him, he sought a thesis in the field of fluid dynamics, with Professor Karl Wieghardt. There he came across a topic that was to shape his scientific life: the unsolved problem of turbulence calculation. Turbulence occurs as a phenomenon in many ways in liquids and gases, especially in the oceans and the atmosphere.
Through this research, Hasselmann came into contact with stochastics and so-called nonlinear processes. Nonlinear systems are characterized by the fact that they do not respond to a manipulation in a "rigid", linear way, but their response can, for example, be disproportionately strong. Thus, such a nonlinear bicycle would not accelerate as much as a normal bicycle when pedaled harder, just as the "linear" gear ratio would dictate, but would accelerate much faster. Such systems exist everywhere in nature. However, the physical formulas describing their behavior are difficult to solve exactly — usually only in more or less tricky approximation methods.
Hasselmann refined the mathematical toolbox he needed for this during his doctoral work at the University of Göttingen and at the Max Planck Institute for Flow Research there in 1955-57. He received his doctorate in 1957 and married the soon-to-be mathematician Susanne Barthe — with whom he would later also collaborate scientifically. During his subsequent assistantship with Wieghardt at what was then the Institute of Naval Architecture at the Universität Hamburg, he stumbled upon his first major research topic: ocean waves. The task was to calculate how ships react to waves.
Ocean waves consist of a superposition of many partial waves with different wavelengths. Consequently, in physical terms, they have a "spectrum", a mathematical distribution of different wavelengths. As a wave propagates, the energy stored in it shifts within this spectrum between the wavelengths involved. Thus, a choppy storm sea freshly stirred up by the wind becomes a long-wave old swell after some time. However, this energy exchange between different wavelengths is nonlinear, which made its calculation so difficult. Hasselmann, as a young researcher, succeeded in solving the problem with the help of a complicated, five-dimensional integral [Hasselmann1962].
This first feat attracted attention at a presentation in the U.S. and resulted in an offer from the eminent American-Austrian oceanographer Walter Munk. Hasselmann accepted and from 1961 to 1964 was first Assistant, then Associate Professor at the Institute of Geophysics and Planetary Physics and at the Scripps Institution of Oceanography in La Jolla, California, USA. During this time, he also participated in a large-scale field experiment conducted by Munk in the Pacific Ocean. It investigated how waves generated by winds, over, say, the South Pacific reach Alaska as old swell.
The contact to Hamburg did not break off during this formative period. His habilitation followed there in 1963, and in the years that followed Hasselmann worked his way up to full professor at the Universität Hamburg. During his Hamburg years, he also sought new subject areas in which to apply his skills, which led him and his first research group temporarily into plasma physics, where he collaborated with his former fellow students Gerd Wibberenz and Wolfgang Kundt. Hasselmann also recruited his first own working group from Kundt's graduates.
From 1970 to 1972, he spent a second period in the USA, as a professor at the Woods Hole Oceanographic Institution. During this time, the so-called "Sonderforschungsbereich 94" ("Special Research Area 94" or SFB94 for short) was founded in Hamburg, and after his return in 1972, he became the spokesman of SFB94. This developed into a large-scale, international field experiment in the North Sea called JONSWAP (Joint North Sea Wave Project). It explored in great detail how waves are generated by wind and later become swells. The JONSWAP ocean wave spectrum measured in the process is still of great importance today. "Previously, it had been assumed that a steady wind would result in a fully mature swell," explains Dirk Olbers, who was a young researcher on the measurement campaign at the time: "But the JONSWAP spectrum showed that the swell never fully matured!" As a result, this spectrum is still used today as the "gold standard" in prediction models for sea state forecasting.
After 1972, Hasselmann became professor for theoretical geophysics in Hamburg. During this time, the president of the Max Planck Society, Reimar Lüst, contacted him and suggested that he become the future director of a Max Planck Institute dedicated to climate research. In 1975, Hasselmann became the founding director of the Max Planck Institute for Meteorology in Hamburg. The term "climate research" still seemed too new as a scientific field at the time, so it was avoided in the institute's name as a matter of caution.
The choice of Hasselmann for such an important position was quite controversial because he did not originally come from the field of meteorology. It was clear to him that he would now have to deliver a scientific paper that showed him to be competent in the new field of research. To do this, he again drew on his profound knowledge of stochastics and nonlinear systems. He developed the theory of stochastic climate models introduced above and published it in 1976 [Hasselmann 1976]. This revolutionary work proved, as already explained, that the climate does not simply respond rigidly to external influences, but that it is variable by itself, the driving force being the "noise" in the weather.
In 1979, the famous paper showing how the "fingerprint" of man could be traced in the climate followed [Hasselmann 1979]. During this time, Hasselmann ensured that the institute grew by recruiting many young, talented scientists — at that time still predominantly male — and that it became too cramped on the two floors in the Hamburg Geomatikum. New premises were needed. So, a pavilion was built opposite the Geomatikum, a provisional arrangement that was then used much longer than originally intended and was demolished only in 2013.
During the first few years, computers did not yet play such a central role at the new Max Planck Institute. Of course, climate models were already being developed, but Hasselmann was initially concerned with establishing the scientific basis for climate research. This meant that work was still mainly done with pencil and paper. In the 1980s, however, it became clear that the models now to be developed had to be more complex and therefore required much more powerful computers. Since Max Planck Institutes were supposed to be lean and scientifically flexible, the solution was to establish a separate German Climate Computing Centre, the "Deutsches Klimarechenzentrum". Its funding was provided by the Federal Ministry of Education and Research. With the tactical help of Hartmut Graßl, Hasselmann succeeded in bringing the DKRZ to Hamburg and became its first scientific director in 1988. The technical director of the DKRZ was one of his former junior researchers, Wolfgang Sell.
This period also saw a change in the statutes of the Max Planck Institute for Meteorology, driven by Hasselmann, which introduced a directorate of equals, with three leading scientists. Hartmut Graßl and Lennart Bengtsson, who had previously been director of the European Centre for Medium-Range Weather Forecasts in Reading, UK, became Hasselmann's first colleagues. This allowed him to hand over responsibility and concentrate more on his own research.
With the ever-improving data and models, Hasselmann's teams led by then-postdoc Gabriele Hegerl and former postdoc Ben Santer finally succeeded in a series of important papers to prove the "fingerprint" of human activity [Hasselmann1993, Hegerl1996, Santer1996, Hegerl1997, Hasselmann1997]. These scientific publications established that greenhouse gases emitted by humans are undoubtedly responsible for global warming as an observable signal.
In addition to climate research, Hasselmann was also enormously productive in other fields. Starting in the late 1970s, he was involved as a scientific advisor in the design of the European Space Agency's ERS-1 research satellite. This satellite was intended to measure ocean waves from orbit. It was launched in 1991 and provided valuable global data, which was analyzed by a team working for Hasselmann, among others.
Moreover, the ocean waves led to a joint research project with his wife. After a 15-year break because of their three children, Susanne Hasselmann had completed her interrupted degree in mathematics and now wanted to return to research. In a small team, the couple developed the wave model WAM (for Wave Model) [WAMgroup 1988]. This model was so successful that it is now used by many meteorological institutes around the world for operational sea state forecasts. The Hasselmanns' work therefore not only helps to keep ships on a safe course, the forecasts based on WAM have also become popular with the surfing community.
Klaus Hasselmann also never lost touch with the fundamental questions of physics. Through the mathematical methods he used, there were many cross-connections to other research areas in physics in any case. One example is the famous Feynman diagrams, which graphically describe the various interactions between elementary particles. Mathematically related to this are the interaction rules between colliding waves that Hasselmann had worked out.
On the occasion of his 60th birthday, to the surprise of the guests, he gave a lecture on a new particle physics theory on which he had been working for some time. This metron theory should overcome some fundamental weaknesses from which the existing physical quantum field theories suffer in Hasselmann's view. After his retirement in 1999, he devoted himself entirely to his Metron project, until today. But the great researcher who, with impressive intelligence and light-footedness, has spent his life switching extremely successfully between different fields of research — this is where he failed. The particle physics community still does not accept the Metron approach. In this respect, too, Hasselmann's career is somewhat reminiscent of that of Albert Einstein, who invested his last decades of research in vain in a field theory that failed to gain acceptance.
However, there is also a decisive difference in the lives of the two renowned scientists. Einstein became increasingly lonely in old age. Klaus Hasselmann, on the other hand, is supported by the large network of friendships he has built up over the course of many decades. And he is a family man. During the award ceremony for the Nobel Prize in Physics, which was held in a small circle only because of the Corona lockdown, Bjorn Stevens was amused to observe how Klaus Hasselmann much preferred to occupy himself with his great-grandchildren than to follow the ceremony.
The networker and "emperor"
If one follows not only the facts but also the comments, stories and anecdotes from the large circle of people who got to know Klaus Hasselmann more closely, then very striking character traits of the researcher emerge. This is especially true of the characteristics of an extraordinarily independent mind and a versatile, inquisitive thinker. Moreover, there is a rare fearlessness with which Hasselmann never flinched from the adventure of radically deviating from a supposedly predefined career path. A typical physicist of his generation would probably have ended up in particle physics, high-energy physics, and stayed there. In fact, Hasselmann has always been very interested in fundamental physics, as he demonstrated late in his career.
His scientific adventurousness is also reflected in the advice and impulses he gave to the young scientists around him. A suitable anecdote is told by Peter Lemke, who, among other things, was the first German to chair the joint steering committee of the World Climate Research Program (WCRP) and, until his retirement in 2014, headed the Department of Climate Sciences at the Alfred Wegener Institute, Helmholtz Centre for Polar and Marine Research in Bremerhaven. For an expedition of the research vessel "Polarstern" planned for the summer of 1989, he was to replace the absentee leader of a research team on board. As a theoretician, however, he had doubts as to whether he should accept the offer, since it involved experiments, measurements. Since he was still employed at the Max Planck Institute for Meteorology, he asked Klaus Hasselmann for advice. Hasselmann replied, "If I were you, it's obvious — go along and learn how to collect data and how to interpret it!" For Hasselmann, there was no question that Lemke should take this leap and grow from it, had he done so himself.
In any case, Hasselmann had no qualms about throwing young researchers into the deep end of what were for them new fields of research. His life's journey is accompanied by many anecdotes of doctoral students or postdocs who were sent around the world by Hasselmann as representatives and who then found themselves in high-profile rounds of the leading scientists in the field.
"He has always seen people's potential," says Dirk Olbers, who was one of a group of young graduate students of Professor Wolfgang Kundt whom Hasselmann "hijacked" after his return from Cambridge to set up his research in Hamburg, as he told von Storch [1, S. 48]. With JONSWAP, Hasselmann unceremoniously threw the physicist Olbers into the deep end of oceanography research. Later, Olbers became a professor and went to the Alfred Wegener Institute as a climate researcher, thus setting an example for the many successful scientific careers that Hasselmann has fostered.
This leads to Hasselmann's next outstanding character trait, that of the sociable networker, the humanitarian and — in a positive sense — also manhunter, who discovered talents with a fine intuition and knew how to win them over. Many of them he let go after an intensive period of cooperation. In the background and without their knowledge, he often ensured that they were strategically placed in attractive scientific positions. In this way, he wove a network that allowed intensive scientific exchange, to the benefit of all involved. Other talents remained and accompanied Hasselmann throughout their scientific lives. These include Ernst Maier-Reimer as a central figure at the institute. "He became the guru of numerical modeling," recalls Dirk Olbers. Maier-Reimer was also instrumental in developing the institute's first global climate model, which was, after the Princeton model, the second of its kind in the world at the time," says Olbers.
Of course, even a great scientist is occasionally wrong, as Olbers knows from his own experience. In the 1980s, Tim Barnett, one of Hasselmann's first doctoral students from his time in La Jolla, came to the institute as a guest. He brought with him 14 years of area-wide wind data from the Pacific Ocean, "a very unusual data set at the time," Olbers says. Mojib Latif, a young researcher at the institute, then came to Olbers with the idea of inputting that data into the institute's ocean model and seeing if it produced anomalies in ocean currents off America's coasts that had become known as El Niño. "Klaus Hasselmann was not enthusiastic about the suggestion," Olbers recalls, "but we did it anyway with Maier-Reimer, and the result was El Niño." With this work, Mojib Latif was able to launch his impressive scientific career, and Hasselmann was also quick to acknowledge the success. Together with Graßl, Latif also took on the task of communicating the climate issue to the public — something Hasselmann was happy to let them do. As a result, both of them became much better-known public figures than he was himself. Latif, who has also been president of the Academy of Sciences in Hamburg since 2021, is now Germany's best-known climate researcher.
Anyone with good arguments never had any problems with the emperor — the "Kaiser". This nickname goes back to Hasselmann's confident and friendly demeanor, with which he was able to win people over quickly. In von Storch's book [1, p. 144f], Ben Santer, who conducted research at the Max Planck Institute from the late 1980s to the early 1990s, recounts a joint flight with Hasselmann to a scientific meeting in Boulder, Colorado. On the international flight to Denver, Hasselmann asked the flight attendants if there were two quiet seats available in business class - they had to work on some important scientific research. With his incomparable confident manner, Hasselmann got the upgrade, even though they had both booked one class below. It was on this flight that Hasselmann drafted the foundations of his later "fingerprint" paper, which would appear in 1997 [2]. [Hasselmann 1997].
Hasselmann's sociability also included singing in choirs together with his wife. During his research stay in La Jolla it was a madrigal choir, and later in Hamburg the Altona Singakademie. Gerbrand Komen was also unceremoniously introduced to the latter by the Hasselmanns. Hasselmann had invited Komen to the institute as a guest for the summer of 1983, and due to a lack of housing, the Hasselmanns had accommodated him and his entire family in their house in Kayhude. After Komen's family had to go back to the Netherlands, he was brought into the choir by the Hasselmanns so that he would not miss his family so much. When he needed a black suit for a concert, Hasselmann lent him his own wedding suit, which fit perfectly.
This anecdote [1, p. 150] says a lot about Klaus Hasselmann as a friend and family man. His own family, however, did not always have an easy time with the hyperactive scientific nomad. In von Storch's book [1, p. 117ff], Susanne Hasselmann tells of a party in Hamburg at which each guest was supposed to introduce themselves with a drawing. Klaus Hasselmann drew himself as a man smoking a pipe and traveling the globe in a rocking chair. Susanne Hasselmann then added herself as an appendage, clutching the chair with one hand and dragging the three children and a suitcase behind her with the other. And yet, in retrospect, she describes the time at his side as "the richest life one could ever dream of".
Klaus Hasselmann's love of traveling and cosmopolitanism may also have its roots in his childhood. In 1934, his parents emigrated from the Nazis to England, where he spent his years at school. It was not until 1949 that the family returned to Hamburg. This shaped a citizen of the world for whom it was only natural to be on the move. "He was never there, always on the road," recounts Dirk Olbers: "And when he came back, he gave seminar lectures in which there was always something new." This stimulating atmosphere around Hasselmann, however, also demanded discipline, Olbers says: "You had to be careful to stay on your own topic." But this also meant that Hasselmann always brought new impulses into his working groups, keeping them well informed about the latest scientific trends.
Gabriele Hegerl, who today teaches as a professor for climate research at the University of Edinburgh and as a postdoc was significantly involved in Hasselmann's important "fingerprint" work, learned three essential practical things of life from him [1, p. 137ff]. These are listed here in the conclusion because they aptly describe Hasselmann's personality. The first lesson is accuracy in the preparation of scientific papers. Von Storch's book is full of anecdotes about how Hasselmann would pick apart drafts of scientific papers and have them rewritten until the last minute and until he was finally satisfied. This is seamlessly matched by lesson number two, to do important things "really well."
The third lesson is that research and life offer a wealth of possibilities. If one threatens to get stuck in one thing, one should try "something crazy." This describes another of Hasselmann's character traits, his optimism. This optimism also applies to humankind as a whole in challenging times. Hasselmann assumes that our species will not only acknowledge the problem of climate change, but also find solutions.
This article is based on interviews conducted by the author with companions and climate researchers, and in important passages on Hans von Storch's book "From Decoding Turbulence to Unveiling the Fingerprint of Climate Change: The Science of Klaus Hasselmann". In it, many scientists have their say who could not be included here due to lack of space.
[Storch] Hans von Storch (Autor und Herausgeber), From decoding turbulence to unveiling the fingerprint of climate change: The science of Klaus Hasselmann. - Cham: Springer, 2022. doi: 10.1007/978-3-030-91716-6
[Marotzke2021] Marotzke, J. (2021), Physik und Klima: Zum Physik-Nobelpreis 2021 an Syukuro Manabe und Klaus Hasselmann. Physik Journal, 20 (12), 26-29
[Hasselmann1962] Hasselmann, K. (1962), On the non-linear energy transfer in a gravity-wave spectrum, Part 1. General theory, Journal of Fluid Mechanics, 12, 481-500. doi: 10.1017/S0022112062000373.
[Hasselmann1976] Hasselmann, K. (1976), Stochastic climate models - 1. Theory. Tellus, 28, 473-485. doi:10.3402/tellusa.v28i6.11316
[Hasselmann1979] Hasselmann, K. (1979), On the signal-to-noise problem in atmospheric response studies. In Shaw, D. (Eds.), Meteorology over the tropical oceans (pp.251-259). Bracknell: Royal Meteorological Society.
[WAMgroup1988] WAM Development and Implementation Group (1988), The WAM Model - A third generation ocean wave prediction model. Journal of Physical Oceanography, 18, 1775-1810. doi:10.1175/1520-0485(1988)018<1775:TWMTGO>2.0.CO;2
[Hasselmann1993] Hasselmann, K. (1993), Optimal fingerprints for the detection of time-dependent climate change. Journal of Climate, 6, 1957-1971. doi:10.1175/1520-0442(1993)006<1957:OFFTDO>2.0.CO;2
[Hegerl1996] Hegerl, G., von Storch, H., Hasselmann, K., Santer, B., Cubasch, U. & Jones, P. (1996), Detecting greenhouse-gas-induced climate change with an optimal fingerprint method. Journal of Climate, 9, 2281-2306. doi:10.1175/1520-0442(1996)009<2281:DGGICC>2.0.CO;2
[Santer1996] Santer, B., Taylor, K., Wigley, T. et al. (1996), A search for human influences on the thermal structure of the atmosphere. Nature 382, 39–46 (1996). doi: 10.1038/382039a0
[Hegerl1997] Hegerl, G. C., Hasselmann, K., Cubasch, U., Mitchell, J., Roeckner, E., Voss, R., Waszkewitz, J. (1997), Multi-fingerprint detection and attribution analysis of greenhouse gas, greenhouse gas-plus-aerosol and solar forced climate change, Climate Dynamics, 13, 613-634. doi:10.1007/s003820050186.
[Hasselmann1997] K. Hasselmann (1997), Multi-pattern fingerprint method for detection and attribution of climate change, Climate Dynamics, 13, 601-611. doi:10.1007/s003820050185.
Complete List of Publications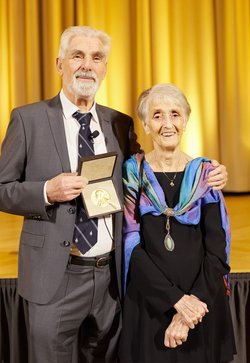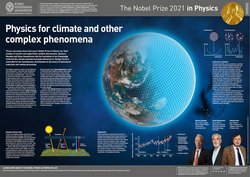 Physics for climate and other complex phenomena
Credit: The Royal Swedish Academy of Sciences
Download pdf